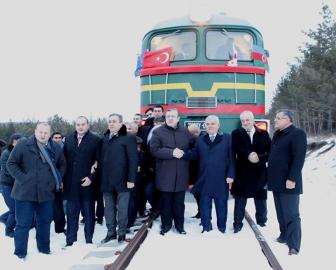 Giorgi Kvirikashvili, Minister of Economy and Sustainable Development, Vice Prime-Minister of Georgia and Zia Mamedov, Minister of Transport of Azerbaijan attended Akhalkalaki-Kartsakhi section presentation and test train running. According to Mr. Kvirikashvili, major construction works on 180 km railway are actually completed and every effort will be made to complete Baku-Tbilisi-Kars railway works in late 2015.
Baku-Tbilisi-Kars railway is designated as the most important project in the region. During the last two years the issue of the first test train running by the end of 2014 has been actively discussed at the meetings held at various levels between Georgia, the Republic of Azerbaijan and the Republic of Turkey. In accordance with the scheduled terms, track construction on the total section was completed under management of "Marabda-Kartsakhi Railway" LLC.
Giorgi Kvirikashvili and Zia Mamedov personally examined the completed works and talked about the significance of the Project and future perspectives.
The new railway will have potential of 1 m passenger transfer per year and initially 5 m tones freight carrying capacity, which will be gradually increasing and for the second phase is planned to reach 15 m tones throughput of cargo per year. It should be emphasized that the commissioning of the railway will provide work places for 2500 people.